Hi guys
Just an Info post so you can read up on Vogtland and see what they have to offer
Today VOGTLAND is an international spring manufacturer dealing in OE applications for factory cars and aftermarket suspension tuning. The company originally started in 1908 in Germany but began operations of aftermarket suspension tuning in 1991. Today they are now suppliers to Nascar and Indy racing teams in North America
The Product
VOGTLAND sport springs are produced using special oil tempered spring steels of high tensile strength chromesilicon (CrSi) and chrome-silicon-vanadium (CrSiV) alloys using the cold coiling process. This provides reduced spring weight with high material strength, effectively reducing the unsprung weight of the vehicle and optimizing handling characteristics.
After the cold coiling process, all suspension springs are tempered, shotpeened and preset to ensure consistent vehicle ride height and suspension function.
Low grade products will lose height due to high impact; however, VOGLAND springs are guaranteed to maintain their factory settings because of our sophisticated presetting program. Finally the springs are phosphated and powder coated to ensure a superior corrosion barrier for years of service
Quality
Quality is an integral part of VOGTLAND´s heritage. Our Quality Management Systems are in line with ISO TS 16949 and certified to DIN EN ISO 9001 standards which are supported internally by engineering, testing capabilities, and training programs to maintain the highest quality assurance standards.
Our products are TÜV approved; our Quality Management System is verified by the Federal Office of Motor Vehicles, which is critical in achieving TÜV Certification.
Due to our constant attention to product quality, you can be assured that a VOGTLAND product will function properly in its intended application, and provide the lasting quality that you desire. VOGTLAND is an active member of SEMA (the Specialty Equipment Market Association) and VDAT. VDAT is the Association of German Automobile Tuners and their Quality Seal underscores our competency as a suspension system specialist.
Springs
VOGTLAND compound Spring Rate
As the distance of spring travel reduces, the performance demands of a spring drastically increase. Derived from racing, the VOGTLAND compound spring consists of two different spring rates. The initial rate provides the proper preload necessary for proper suspension function during all road conditions, and the final rate is designed to provide the appropriate vehicle balance for neutral steering characteristics. Each spring is calibrated for every specific car model, and provides a balance between performance and comfort. With lowering amounts available from 25 - 60 mm.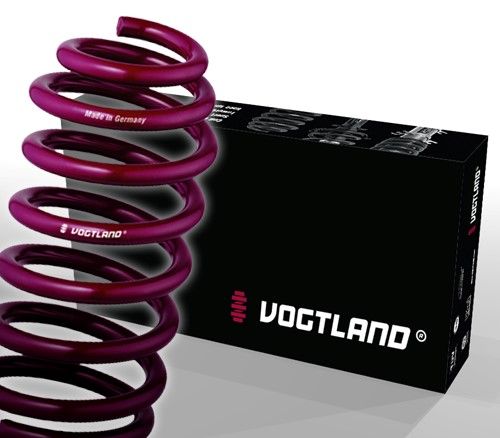 Sport Suspension Kit (spring plus matched sport shock absorber)
The VOGTLAND sport suspension kit is a complete solution for your car's suspension requirements. The sport suspension kit uses our trusted sport springs and the best shock absorbers to provide an answer for all your vehicle's suspension shortcomings. By increasing driver feedback, reducing brake dive and body roll, and decreasing vehicle ride height.
The VOGTLAND sport suspension kit improves the look of your vehicle and adds stability to increase your confidence when behind the wheel
The damper characteristic and spring rates were optimized to function as a package. The shocks are either high or low pressure gas and are selected for each individual application, typically providing a 10 -15% increase in force. In addition to the standard suspension kit, damping adjust shocks are available so the enthusiast can tailor how they want the vehicle to perform. The adjustable dampers provide a force increase up to 100% and are combined with our more aggressive spring packages. Depending on the vehicle model the damping force can be adjusted in the installed position or may require removal. Due to extensive research and testing, VOGTLAND has engineered sport suspension kits which are optimally tuned for the dynamics of each vehicle. Specifically selected shock absorbers provide an increase in damping stiffness, when combined with our performance lowering springs, provide a complete suspension solution
Coilover
The coil over suspension provides individual lowering with a sportive damper characteristic.Equipped with compression and rebound characteristics suitable for the track, yet comfortable enough for the street, the twin tube dampers are designed to control the high spring forces and unsure that the sprung and unsprung mass of the vehicle is properly controlled.
The sportive and comfortable setting allows a top road handling and excellent ride quality
Depending on the car brand the TÜV-approved adjusting range till 80 mm guarantees sportive optics.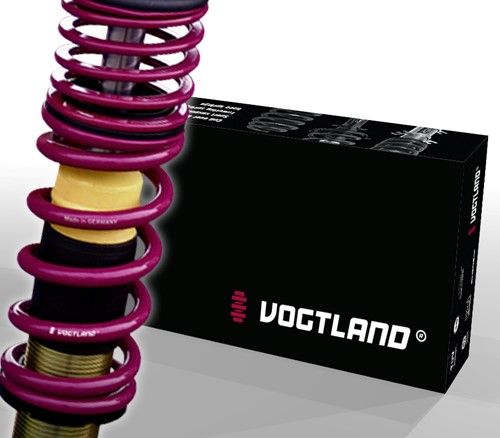 Please mail
enquiries@sinistertechnologies.co.za
for any info you require